Go Green: Happy Independence Day!
By Nnene Kalu Mbonu
Published: September 30, 2014
Style + Beauty
Step out in style for Nigeria's 54th Independence day. Whether its for an all green-white-green party or a cocktail evening celebrating with friends, this beautiful form-fitting dress will certainly be a crowd pleaser. Paired with striped black and white pumps and  a green luxurious python clutch,  this ensemble certainly puts a spin on a classic front tie sexy but elegant dress.
Happy Independence Day!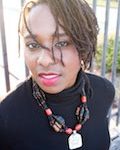 Leave a Comment