11 Foodists with a Fervor for Nigerian Cooking
By Nikki Igbo
Published: February 3, 2015
We couldn't very well delve into African cuisine without paying homage to the chow closest to our own cultural home. No matter how intimate our knowledge may be of Nigerian recipes, there's always something new and wonderful to learn about this ever-flourishing fare. Here are 11 Nigerian meal-loving sages who have made it their mission to enlighten the world, Nigerian-born or not, on the joys of Naija eats.
Ronke Edoho, Naija Foodie Aficionado
Ronke Edoho, a CPA by day, always had a deep appreciation for good, healthy food having grown up with a mother who spent countless hours preparing their family meals. But it was an uninformed article about the supposed "low quality" of African cuisine that got Ronke revving to create and launch her now famed food blog 9ja Foodie. "Rooted in tradition, created with modern flair," Ronke has put all African cuisine naysayers on notice with a vast selection of recipes that highlight the kind of culinary excellence one can discover on a Nigerian table. Think such dishes as Sweet and Spicy Peanut Wings, Spicy Coconut Suya Prawns or Whole Wheat Baked Chin Chin are low brow? Try these out and think again.
Iquo Ukoh, Savoury Queen
Every woman understands the challenge of trying to feed her family a healthy diet while juggling the daily pressures of life. The common notion is that healthy means complicated and tasteless. Iquo Ukoh's blog 1Q Food Platter offers recipes and cooking tips that prove healthy dishes can fit into a hectic schedule without skimping on taste or flavor. Having traveled throughout West Africa, the Lagos-based formally trained dietitian shares a variety of wholesome delights through friendly, easy-to-follow posts featuring dazzling photography and videos. Check out such posts as Nigerian Beef Suya on Baked Mosa, Spicy Fried Tilapia with Oven Roast Plantain or Moin Moin Wraps to taste and see for yourself.
Lohi Ogolo, Nigerian Cuisine Advocate
When Ottawa-based Lohi Ogolo thinks food, she is reminded of family and the rich, flavorful beauty of her personal African roots. Naturally, she couldn't help sharing these connections with the world. Lohi launched her blog Lohi's Creations in 2008 to document her kitchen adventures and to fill the online void of Nigerian and African-related food blogs. Today the certified chef, food photographer and personal caterer continues to popularize Nigerian cuisine with such classic recipes as Afia Efere (White Soup) and Ekpang Nkukwo (Cocoyam Porridge), and such personal creations as Plantain Sandwich and Moi Moi Pops. Lohi also contributes her culinary expertise to Radiant Health Magazine and Bella Naija.
Adaobi "Dobby" Okonkwo, Home Cook Authority
Lagos State resident Adaobi "Dobby" Okonkwo is living, blogging proof that you don't have to be a professional chef to be a Nigerian food expert. Dobby's passion for and hobby of Nigerian cuisine inspired her to create Dobby's Signature, an online recipe diary. Dobbby's goal is to make the site into a bonafide encyclopedia of Nigerian cooking know-how—and she's well on her way. The ever-expanding website includes everything from appetizers, breakfast staples, soups and side dishes to "swallows," drinks, snacks and vegetarian meals.
Abby Soetan, West African Gourmand
When it comes to cuisine, Abby Soetan is a self-proclaimed foodaholic, which is easy to believe since "food" is the first word she ever spoke.  After fulfilling her parents' wishes to obtain degrees in Economics and Human Resources Management, Abby pursued her own culinary dreams by studying at Le Cordon Bleu. A banking advisor by day, Abby spends her free time wallowing in her food infatuation via her blog Tatashey and through contributions to Bella Naija and Radiant Health Magazine.  Interested in cultivating a foodie habit of your own? Check out Abby's recipes for Plantain Guacamole and Shrimp Cups and Gingered Beef with Jasmine Rice.
Funke Koleosho, Foodie Innovator
A lover of West African cuisine—and Nigerian recipes in particular—Essex-based, award-winning Contemporary Nigerian Cuisine cookbook author Funke Koleosho is nothing less than a culinary dynamo. Degreed in Food Science and Technology, Funke is the creator of the Cook! Nigerian, an iPhone/iPad app which features more than 120 recipes from her cookbook as well as a calorie counter which highlights the dietary benefits of West African foods. Of course you can follow her regular recipe posts, such as Paw Paw and Mango Sorbet and Ewedu (Ooyo) Soup, at Funke Koleosho's Food Blog.
Atim Ukoh, Gourmet Stylemaker
A weekday digital strategist consultant and a weekend chef, Atim Ukoh was first urged by her mother to launch a catering business. Since she was constantly cooking favored Nigerian dishes (Jollof rice, gizdodo, puff-puff) at friends' houses for free, it seemed only right to monetize her hobby. In 2009, despite juggling a full course load as an undergrad at University of Toronto and possessing no formal training in catering whatsoever, Atim rose to the challenge by promoting her fledgling Afrolems catering company through Facebook, Twitter and her blog. Dedicated to delivering Nigerian cuisine to folks throughout Toronto, Afrolems took off by leaps and bounds. Today, Atim shares blogging duties with fellow chef Feyisope Akinyosoye with the common goal of stylizing African food for an international audience.
Affiong "Affi" Osuchukwu, Madam Chef
When global tech firm marketer Affiong "Affi" Osuchukwu relocated to Nigeria after nearly 20 years of living abroad, she became determined to learn the art of Nigerian cuisine and put a satisfied grin on her husband's face to boot. To document her cooking journey, she combined her talents as a professional photographer with her home cheffing goals to create her blog My Belle Don Full. The food photography blog is as much a feast for the eyes as it is for the appetite with such savory temptations as Groundnut Soup and Baked Nigerian Snapper with Vegetable Medley. But her culinary adventures haven't stopped there. In 2014, Affi also founded Oh So Nutrition, a whole food and healthy beverage company based in Lagos.
Nky Lily Lete, YouTube Epicurean
Though anyone can learn and master the art of Nigerian cooking, some of the best Nigerian recipe pros learned from watching Mom or Auntie prepare dishes at home. But what about those who are far away from knowledgeable relatives or aren't actually Nigerian by birth? See Nigerian Food TV where blogger/vlogger Nky Lily Lete has come to the rescue with her collection of hands-on "watch, learn and emulate" videos to make such favorites as Puff Puff, Meat Pie and  Catfish Pepper Soup  a delicious staple of any household. Nky's channel even includes a video on what to look for at a Nigerian food specialty store.
Flo Madubike, Nigerian Recipe Traditionalist
In 2010, when Flo Madubike first embarked on mastering website design, she never imagined she'd go on to produce her All Nigerian Food Recipes cookbook. She simply needed information to post on her fledgling site and happened to have her Nigerian recipes handy. Today both her website (with more than 22 million views from around the world) and cookbook are undeniable hits. As Flo states in her cookbook, her recipes include all traditional ingredients with absolutely no westernization. Therefore, if you're a Nigerian culinary purist, check out Flo's directions for Pounded Yam and Egusi Soup.
Dunni Obata, Naija Recipe Developer
As is the case with our other featured foodies, IT Project Manager Dunni Obata has an acute passion for Nigerian food and delights in entertaining family, friends and strangers alike with good food. When she's not working, she's either cooking or absorbing everything she can on the art of cooking. Her blog, Dooney's Kitchen, showcases a collection of recipes for all occasions as well as a weekly meal planner.  The European-based, 20-something Nigerian not only posts helpful cooking advice and tips but also invites readers to participate in an online culinary dialogue.
Honorable Mentions
Eat.Drink.Lagos
If the idea of independently navigating Lagos' landscape to discover the city's boss eateries scares you, let Nosa and Folly of Eat.Drink.Lagos do the dirty work for you. Check out this blog for the nitty gritty on all the best Lagos destinations for wining and dining.
Uzo's Food Labs
Busybody Uzo Orimalade is the creative director for her boutique bakery Cupcake Couture, a Bella Naija contributor, and the host for EbonyLife TV's Friday Food on The Spot.  As the managing director for Uzo's Food Labs, she talks recipes and lifestyle on her eponymous blog.
Spice Baby
Former Nigerian television and radio personality and Chicago-based journalist Lola Mogaji-Ogi believes that Naija food should be accessible to all Nigerians no matter where on Earth they live. Her site Spice Baby provides the skinny on Nigerian recipes, ingredient sources, restaurants, event planners and more.
Design Cook Love
Systems engineer and self-taught home cook Alice Okundaye shares her personal journey as a Canadian immigrant, her Nigerian roots and her love of all things food-related in her blog Design Cook Love.  The multifarious site features everything from recipes, to social campaigns to prize giveaways.
Though our list covers these few names in Nigerian epicurean circles, we know there's a universe of Naija foodies out there who are doing their part to put Naija food on the map. If we missed your favorite Naija foodist, drop us a line to let us know.
[RELATED: The Rise of African Cuisine]
Never miss another health article from us. Join our free weekly newsletter and get a bonus 10-day guide to a lean body, clear skin and radiant glow! Download your copy here.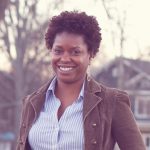 Leave a Comment