Give Your Face A Midweek Boost with This Homemade Coffee Scrub
By Dolapo Iyunade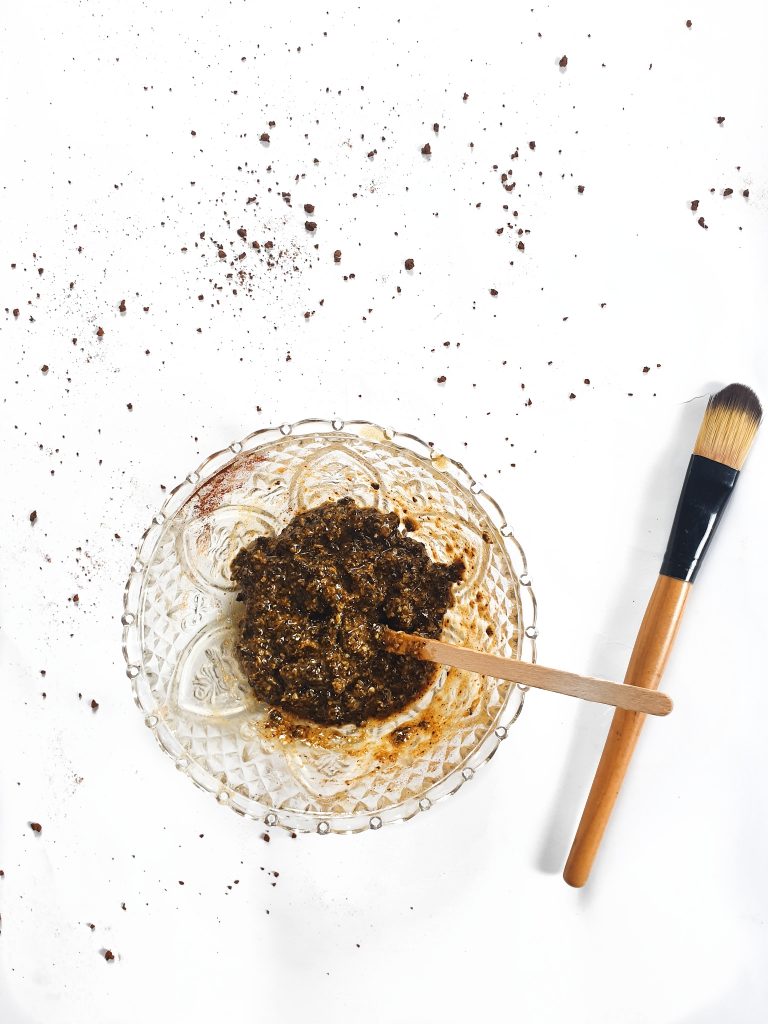 W e already know that exfoliating is great for our skin, but store-bought body scrubs tend to be expensive. On top of that, some of these products contain potentially harmful ingredients such as:
Sodium lauryl/laureth sulfate
Petrolatum
Mineral oil
Triclosan
Propylene glycol
Urea and DMDM Hydantoin
The solution? Make your own!
Whether you're new to making your own beauty products or you're already a DIY goddess, I encourage you to try this homemade coffee scrub recipe.
Why you should use coffee on your skin
Some skin care products are made using extracts from the fruit of the coffee plant. According to this study published by the National Center for Biotechnology Information, coffee ground extracts may be useful for reducing wrinkles, preventing water loss and slowing down collagen loss, when used topically [1].
Also, as dermatologist Dr. Julie Hunter mentioned in Prevention Magazine, a coffee facial scrub can lead to softer facial lines, brighter skin, and less clogged pores. "The acid in coffee gives you some chemical exfoliation on top of mechanical exfoliation…It also helps bolster skin's protective barrier," said Dr. Hunter. [2]
Lastly, who doesn't love the smell of coffee? The yummy goodness on my face and the rest of my body is enough reason for me to use it over and over.
This coffee scrub recipe combines some of my favorite natural beauty ingredients:
Oat flour: Great for gentle cleansing of the skin due to the presence of saponins.
Honey: Naturally antibacterial, honey is great for acne treatment and prevention.
Turmeric: Well known for its anti-inflammatory properties, turmeric is also a natural antiseptic, which helps to keep bacteria from spreading.
Frankincense essential oil: To help with scar reduction.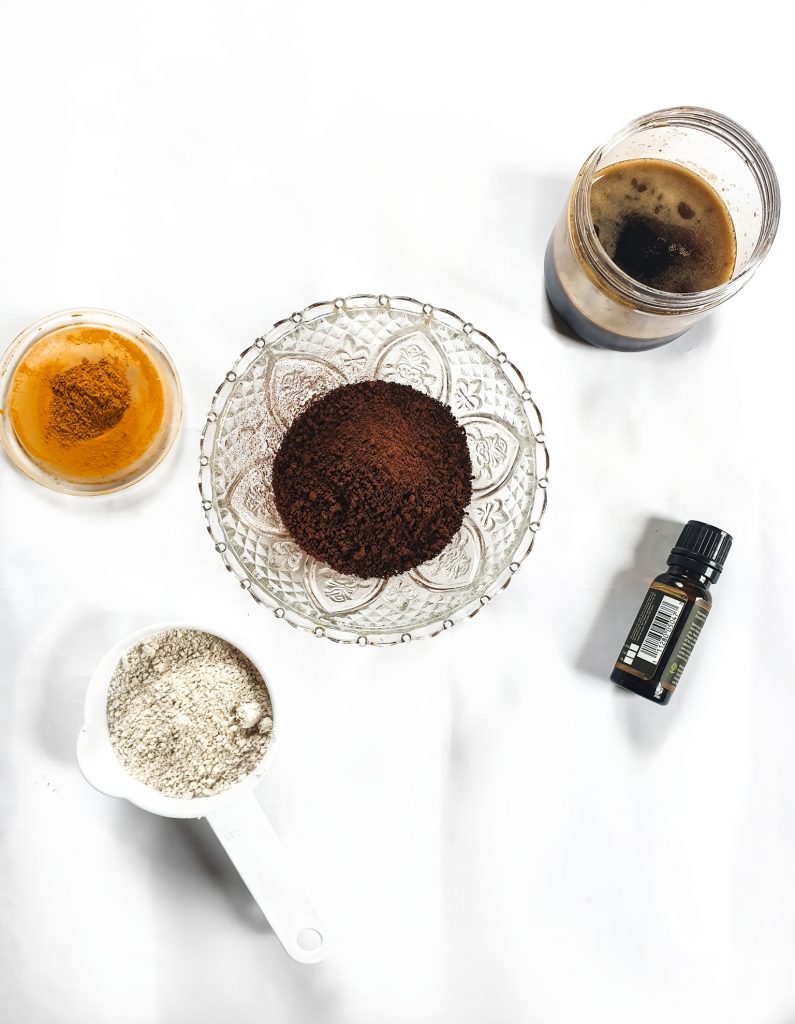 Ingredients
1/4 cup ground coffee
1/4 cup oat flour (just blend up some oats to make the flour)
1/4 cup of honey
1/2 tsp of turmeric
Drops of any essential oil of choice (optional)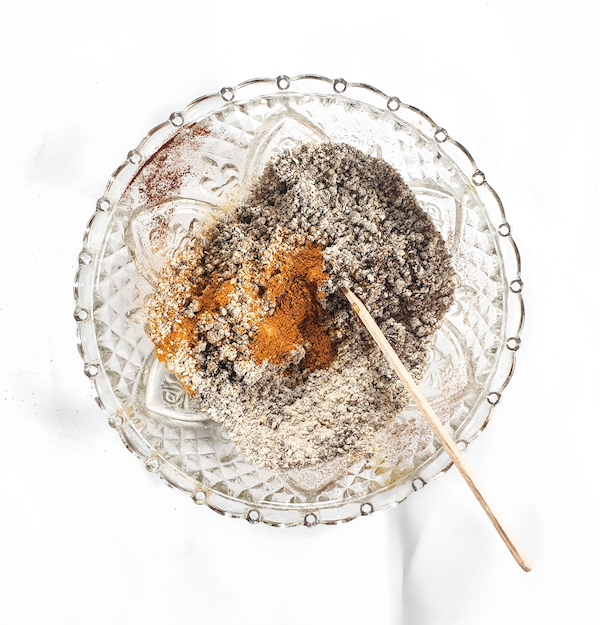 Instructions
Mix the coffee and oat flour.
Add the honey and essential oil (optional) into the coffee mixture
Mix until well combined. If the mixture is too thick for you, add more honey until it reaches your desired consistency. If it's too thin, add in more oat flour or coffee.
Gently rub the mixture over your face, avoiding areas around the eyes. Leave it on for several minutes. Rinse thoroughly. You can also use this as a full body scrub.
Note: This scrub keeps for a month (or more). Try to make sure water doesn't get into the scrub when you use it as it won't last as long or work as well. If it begins to look or smell funny after a while, toss it out! 
Tips for better skincare DIYs
Always sterilize your containers and tools! Most skincare DIYs don't involve the use of preservatives, and you really don't want mold growing in your product. An easy way to sterilize your containers is to soak them in hot water, soap, and some bleach.
Make small batches to avoid wastage. If preservatives are not involved in your creations, it's best to make small batches. That way, if bacteria get into your product, you won't have to toss out a huge amount.
NEVER forget your patch test! There's no "one size fits all" in skincare. What works for me may not necessarily work for you. A patch test should be done to test the product on a small amount of skin – especially if you have sensitive skin – to make sure your skin doesn't react negatively.
This homemade coffee body scrub is bound to leave your skin feeling amazing. Let me know how it worked for you!
Sources
[1] H.-S. Choi, E. D. Park, Y. Park, S. H. Han, K. B. Hong, and H. J. Suh, "Topical application of spent coffee ground extracts protect skin from ultraviolet B-induced photoaging in hairless mice," Photochem. Photobiol. Sci., vol. 15, no. 6, pp. 779–790, 08 2016.
[2] M. Ricapito, "6 Surprising Ways Coffee Makes You Prettier," Prevention, 06-Feb-2015. [Online]. Available: https://www.prevention.com/beauty/a20430219/beauty-uses-for-coffee/. [Accessed: 02-May-2019
Like what you're reading? Sign up for our free newsletter and never miss a post! Plus get a FREE digital version of our Issue No.10 with sign up.

Leave a Comment