RECIPE: Egg And Plantain Frittatas
By Lohi Ogolo
Eggs with a kick of sweet plantains for the perfect morning breakfast or brunch.
Egg and Plaintain Frittata
Ingredients
1 plantain (ripe)
8 large eggs
1 onion (diced)
1 red/yellow pepper/capsicum (diced)
1 tomato (diced)
1 seasoning cube* (optional)
salt/curry/dry pepper (to taste)
Instructions
Slice the plantain and coat it with oil of choice (coconut oil is mine). Place in an oven safe bowl and bake for 20 minutes turning over once.
While the plantains are baking, chop the onions, tomatoes and red and yellow pepper and set aside. Break the eggs into a bowl, add the diced onions, peppers, tomatoes and onions and stir till evenly mixed.
Add the seasoning cube, salt, curry and pepper and whisk until thoroughly combined. Set aside. Once the plantain is cooked, dice them into small pieces and mix with the egg mixture.
Bake for 20-25 minutes at 350 degree Celsius (662 Fahrenheit) or until the egg is fully cooked through.
https://www.radianthealthmag.com/healthy-eating/egg-plantain-frittatas/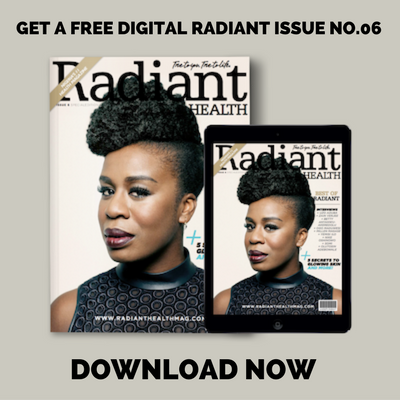 *Seasoning cubes are high in sodium. Reducing its intake, or eliminating it from the diet, may help improve your health. Read our seasoning cube feature here.
Like what you're reading? Sign up for our free newsletter and never miss a post! Plus get a FREE digital version of our Issue No.10 with sign up.


Leave a Comment