How I learned to dress like a boss with only 10 pieces of clothing
By Timi Komonibo
Published: August 8, 2018
I officially became a boss on my 26th birthday. I had the title and the office to prove it but, early into my role, I started noticing an odd phenomenon. Whenever I walked into a meeting, the attendees would always look back at the door behind me, as though they were expecting someone else to join us.
There are a few things that aren't exactly working in my favor—I stand 5'2″ with good posture and I'm often mistaken for a student. Although I couldn't blame the attendees for their confusion, I was not fond of their dismissiveness. There have been occasions when people have tried to speak over me, disrespect me, and deride me at my job. All of this because I didn't fit their idea of what a boss looks like.
I wondered whether I could influence the way people responded to me by changing my dress code in the office. I decided to conduct a 30-day experiment where I wore a "boss" uniform every day to work. My goal was to look like a boss—more specifically, a more put-together and competent version of myself.
I limited myself to just 10 articles of clothing so I didn't go overboard with endless outfit possibilities. Rather than go out and buy an entirely new wardrobe, I reached for my favorite work staples that I already had in my closet. Two of my favorite picks were mustard & ketchup pencil skirts that my dad hand-tailored for me as a congratulations gift for my job.
I selected items that had versatility and showed class. As I was picking items for this experiment, I held each one and asked myself, "Does this make me look like my idea of a boss?" If it didn't, I didn't include it. In total, I had three turtleneck sweaters, one black pinafore dress, four skirts, a pair of pants, and a pair of ankle boots. I kept my colors basic (black, blue, red, white, and yellow) and avoided patterns at all costs. Most of the items had been bought secondhand when I first started my job.
From there, I crafted a work uniform that would make me look like the boss that I am. For my work uniform look, I was channeling my inner Olivia Pope (Scandal) and Miranda Priestly (Devil Wears Prada). I wanted to look like I could take care of business without aging myself. This is where my accessories and makeup saved the day. I do a lot of public speaking at work, so I wanted to train my audience to keep their eyes on my face. I figured, since they were going to stare anyway, I'd better give them something to look at. I switched my glasses to an eggshell white color that contrasted heavily against my brown skin. During this experiment, I was rarely seen without a coat of Mac's "Fashion Legacy" red on my lips. As a finishing touch, I pulled my locs back, parted down the middle in a low bun.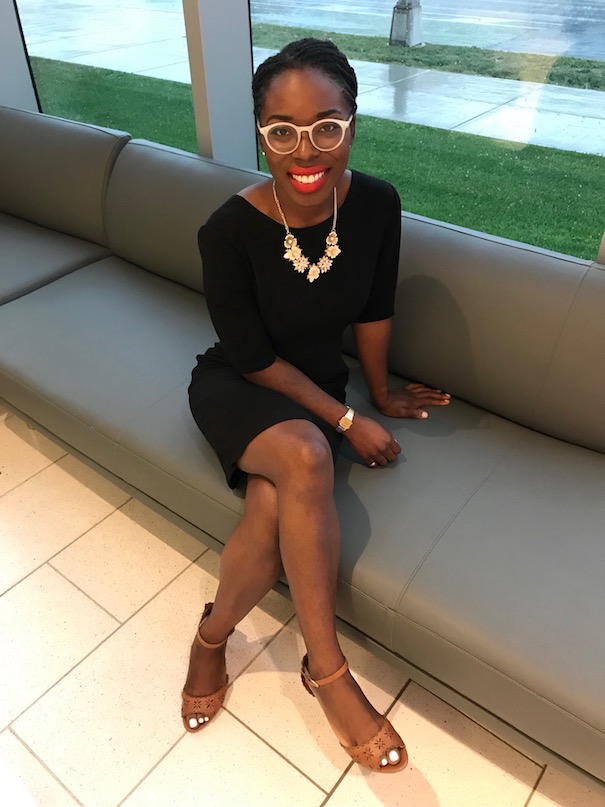 With a few tweaks, I had created the look of a boss. It didn't require me going out and spending money I didn't have to become someone that I wasn't. My minimalist wardrobe gave me the creativity to craft my own aesthetic and the power to choose how I got to present myself. The change did wonders for my job performance. I began to notice people taking me more seriously because I dressed with the authority that I carried inside of me. It spilled over into the confidence with which I did my job.
When the experiment ended, I realized that I had found my new normal. I still wear my work uniform as my style staples for the office. It communicates my competence and personality without me having to say a word. I encourage everyone to find their signature look—something that makes them feel like their most authentic self. This can be done by first reaching into your closet for pieces you already own and then adding any other details that communicate who you are to the world.
There was a time in my life when I held on tightly to clothes and possessions that I thought were part of who I was. As I let go of the non-essentials, I made more room for the items that sparked joy, like Marie Kondo recommends. This experiment inspired me to change the way I shop for clothes. Although I rarely go shopping now, I always examine the quality of clothes, consider how they fit my overall aesthetic, and I prioritize well-structured and well-fitted pieces. I've even taken pieces from the thrift store to a tailor to ensure my clothes don't just drape on me like a hanger. All these details make for a capsule wardrobe that fits me and where I am in my life.
As a woman of faith, one of my favorite scriptures is in Matthew 6. When I'm complaining about not having anything to wear, I remember the section of the chapter that says, "And why do you worry about clothes? Observe how the wildflowers of the field grow: They don't labor or spin thread. Yet not even King Solomon in all his splendor was adorned like one of these…But seek first the kingdom of God and his righteousness, and all these things will be provided for you." These verses remind me that God will provide all the things I need, including the clothes on my back. That is the mindset I carry with me into every area of my life. As I continue living a minimalist lifestyle, I don't lack any of the essential things.
Becoming a minimalist helped me become unapologetic about being a young black boss woman in my career. As a Nigerian woman working in a predominantly white institution, it's impossible for me to hide. I've stopped trying to shrink myself in order to fit into society's mold of a boss. Whether you wear a suit or a dress, you are what a boss looks like. What you wear will only accentuate what is on the inside.
Like what you're reading? Sign up for our free newsletter and never miss a post! Plus get a FREE digital version of our Issue No.10 with sign up.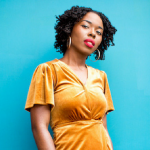 Leave a Comment