Creamy Coconut, Corn and Scotch Bonnet Soup
By Tomi Makanjuola
Published: December 20, 2016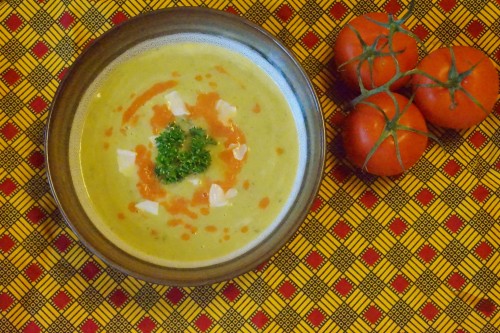 With the perfect balance of sweetness, spice and the creaminess of coconut, this hearty soup is sure to brighten up any dull day. This is comfort food at its finest – simple enough to serve as a go-to lunch or dinner and impressive enough to wow your guests at a dinner party. Use organic ingredients where possible as this adds to the flavour and quality of the final dish. Serve with warm, crusty bread for a light meal. Or go all out and pair it with a grain such as brown rice, quinoa or bulgur wheat if you're after something more filling.
Creamy Coconut, Corn and Scotch Bonnet Bonnet Soup
Ingredients
Soup:

2 tbsp olive oil or coconut oil
1 white onion (diced)
2 cloves garlic (roughly chopped)
1 tbsp ginger (roughly chopped)
1/2 scotch bonnet pepper
1 tin organic coconut milk
2 cups vegetable stock
2 cups sweetcorn
zest of 1 lime
salt and pepper to taste
handful fresh basil

Garnish:

4 large vine tomatoes
1/2 scotch bonnet pepper
olive oil or coconut oil
juice of 1 lime
salt
fresh parsley
coconut flakes
Instructions
In a large pot, heat the olive or coconut oil over medium-high heat. Add the chopped onions, garlic, ginger and scotch bonnet pepper and cook for about 5 minutes until the onion turns translucent.
Stir in the coconut milk, vegetable stock and sweetcorn. Add the grated lime zest and season with salt and pepper to taste. Bring to a boil, then reduce the heat and simmer for 10-15 minutes. Add the fresh basil at the last minute. Leave to cool slightly.
Meanwhile, cut and deseed the vine tomatoes. Put the seeds aside for later use. Lay out the deseeded tomatoes on a lined baking sheet, along with half a scotch bonnet pepper. Drizzle with a little olive or coconut oil, season with salt and roast in the oven, 180C, for 20 minutes.
Once the coconut and corn soup has cooled slightly, puree in a blender until smooth. Pour back into the pot and allow to simmer on low heat while you prepare the garnish.
Blend the roasted tomatoes and scotch bonnet with the tomato seeds and lime juice until you have a smooth mixture.
Divide the soup into bowls and garnish with the tomato/scotch bonnet sauce, along with fresh parsley and coconut flakes.
https://www.radianthealthmag.com/healthy-eating/creamy-coconut-corn-and-scotch-bonnet-soup/
Enjoy!
Like what you're reading? Sign up for our free newsletter and never miss a post! Plus get a FREE digital version of our Issue No.10 with sign up.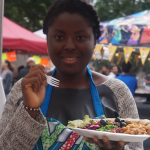 Leave a Comment