Tips To Take On Your Natural Hair Journey
By Alvieann Chandler
Published: October 21, 2014
Growing your natural hair is not something that will happen overnight; hair takes time to grow and requires proper care along the way. According to the International Journal of Dermatology, hair grows at a rate of six inches per year. So, once the old hair is cut off, it will take at least a year for your hair to regain its length. But the good news is that switching your hair to a more natural regimen is both healthier and can save you a lot of money.
Below are just a few tips to follow as you venture on the road to natural hair. (And remember, it is a myth that it's impossible for women of color to grow long hair – the key to growing long and healthy hair is proper hair care.)
1. Avoid sulfates – Sulfates can strip away your hair's natural oils, which are essential for hair growth and strength. Be sure to always check the ingredients on the label before purchasing hair care products.
For natural hair products in Nigeria, check out The Natural Nigerian.
2. Remember the water – Spraying your hair with water adds essential moisture. To have softer hair, spray water on your hair and then seal it with a water-based moisturizer or even shea butter.
3. Try a vinegar rinse – An apple cider vinegar rinse will restore the hair's natural pH level, remove built-up dirt and product residue, and add great shine. Try using an apple cider vinegar rinse before shampooing to ensure that your scalp is completely clean.
4. Don't over-wash – Your hair needs its natural oils, but washing your hair every day strips them away, causing hair to dry out. While the time needed between washings will vary from person to person, washing every two weeks and conditioning every week works well for many women.
5. Use protection – Braids, wigs and extensions are good ways to protect your hair as you wait for it to grow out to a longer length. When the weather turns cold outside, wear a hat or a scarf to protect the hair from drying out. And at night, try a satin sleep cap or a satin pillow, as satin will not absorb the moisture from your hair.
6. Eat healthy – Your outer appearance is a reflection of your inner health, and maintaining a diet rich in fruits, vegetables and plenty of water will directly benefit your hair's growth and appearance. In addition, vitamins C, A and B6 are all essential for hair growth and can be found in foods such as oranges, sweet potatoes and chickpeas, just to name a few.
These are just a few tips to follow on your natural hair journey. It's important for new naturals to be patient and persistent when it comes to hair care. It will definitely take some time before your hair is at an optimal length (that's why it's called a journey), but it will all be worth it in the end!
Like what you're reading? Sign up for our free newsletter and never miss a post! Plus get a FREE digital version of our Issue No.10 with sign up.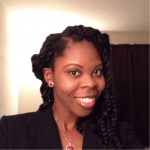 Leave a Comment