Beauty At A Price — Teni Adewumi
By Chinyere Amobi
Published: November 24, 2015
The Radiant Health Women of Action is our list of inspiring women taking action to improve the health and well-being of African communities, whether on the continent or in diaspora. 
UCLA Fielding School of Public Health doctoral student Teni Adewumi is working overtime to uncover the hidden hazards in our beauty products.
Black women have the most versatile hair on the planet, hands down. From weaves, braids and twist outs to the throwback Afro, black hair care is a billion-dollar industry. However, this versatility can come at a price. As the natural hair movement continues to grow, with it comes a magnifying glass on just how natural the products we put in our hair really are.
Teni Adewumi, a Ph.D. candidate in industrial hygiene at the University of California Los Angeles Fielding School of Public Health, sought to find out. "As black women, we spend about two to three times more than any other ethnicity on personal care products, and we use these products more," Adewumi says. "[Now] we're seeing a movement on TV where a star like Viola Davis rocks her natural hair, which also has an impact on our self-image. So we're trying to make sure these products that say 'all natural' are actually natural and to make sure the ingredients of the products we use are things we do want in our hair and bodies."
During her master's study at UCLA, Adewumi partnered with the Los Angeles nonprofit group Black Women for Wellness to investigate the dangers of black hair care products and to educate both consumers and salon professionals about the risks. "In terms of stylists, they work on patrons' hair and their own hair, so they have even higher exposures," says Adewumi. "We're looking to them as pillars in the community to help educate women on these products."
The results were bleak. Among hair salon workers, Adewumi and her team found high rates of reproductive health problems, including miscarriages and uterine fibroids. Her survey revealed the dire need for more education about the health risks of certain products and the importance of proper protective equipment.
"In the U.S. we put stuff into our products, and then when we find out they're bad, we pull them off the shelves. This is unlike in Europe, where you have to prove a product is not harmful before the manufacturing process," explains Adewumi. "One thing we're focusing on is making it easier to pull these products and advocating for more testing and more research into which chemicals are toxic, working at the state and federal level."
Today, Adewumi serves as the environmental justice research coordinator for Black Women for Wellness while continuing her doctoral studies. "Long-term, I want to work more globally in policy and environmental justice, using the skills, knowledge and research base I've gained to make a difference," says Adewumi. "Hopefully one day I'll be working higher levels of the federal government and can also go back to Nigeria to do some good there as well."
Learn more about Black Women for Wellness by visiting their website www.bwwla.org or follow them on Twitter @bw4wla.
[MORE]: See All the 2015 Radiant Health Women of Action
Never miss another health article from us. Join our free weekly newsletter and get a bonus 10-day guide to a lean body, clear skin and radiant glow! Download your copy here.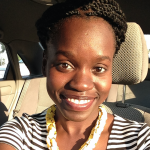 Leave a Comment