Homecoming — Tambra Raye, Founder Of Nativsol Kitchen
By Chinyere Amobi
Published: November 24, 2015
The Radiant Health Women of Action is our list of inspiring women taking action to improve the health and well-being of African communities, whether on the continent or in diaspora.
Accomplished nutritionist and food justice advocate Tambra Raye Stevenson is determined to improve our lives by improving what we eat.
With her unique African flair and signature tagline "Come back home," Nativsol Kitchen founder Tambra Raye Stevenson has become a revolutionary force in the food justice movement. Tambra travels the U.S. and the African continent discussing the connection between food, faith, culture and health, and how what we eat can be a form of preventative medicine. With Nativsol Kitchen, Tambra works "to lead a movement to engage people to renew their health, restore their kitchen and reclaim their heritage to improve their lives."
Tambra, who grew up in Oklahoma, draws from the dual influences of a Southern mother and Ghanaian stepfather. She strives to create a sense of home in her food demonstrations, from the utensils and materials used on the table to the African beats playing in the background. "For so many, home symbolizes a sense of healing and serenity and nourishment; I want people to start using their kitchens in that way. In African culture, food, consciousness and culture are intertwined so easily," she says.
When speaking to the black audiences her organization focuses on, Tambra stresses the fact that the Western diet has contributed to many of the nutrition-related conditions that currently plague our communities, both on the African continent and throughout the diaspora.
"Research has shown that the West African diet is beneficial in combatting diseases such as diabetes, cancer and heart disease," Tambra explains. "If we don't preserve and document the benefits of West African food, it'll be to the peril of our people. When we develop more Western food chains, we see more of these diseases and displace the entrepreneurial spirit of those women in the food markets with fresh food, that enable customers to make healthy dishes."
Through her current work with the Howard University nutrition program on her program called WANDA (Women Advancing Nutrition Dietetics and Agriculture), Tambra hopes to equip a new generation of black food justice workers, while creating a system where those in the field and younger students interested in the work can benefit from each other and work together to improve their communities.
She cites the low number of Africans and African Americans in the field, highlighting that, unlike with medicine, there are few nutrition-based pipelines, summer enrichment programs or role models to turn to for networking and support.
However, Tambra points out that simply sending nutrition and diet specialists to Africa is not the answer. She instead supports "a focus on building skill-based training so the continent can support itself in providing the nutrition wellness initiatives that its people need."
Today, Tambra has her hands in many pots in addition to her work with Nativsol, including serving as chair of the health committee for the D.C. branch of the NAACP, as a committee member for the Diabesity Committee with the D.C. Department of Health, on the planning committee for the U.S. Conference on African Immigrant Health and on the team for New York's African Restaurant Week.
In terms of the future, Tambra is working toward a time of greater connectivity in the black food justice realm; a time when "any of us can call on each other for a job opportunity, for sisterhood, where we can support one another from a place of feeling like we're coming back home. Building a network where we do not feel alone."
To learn more about Nativsol, please visit www.tambraraye.com or www.twitter.com/nativsol.
[MORE]: See All the 2015 Radiant Health Women of Action
Never miss another health article from us. Join our free weekly newsletter and get a bonus 10-day guide to a lean body, clear skin and radiant glow! Download your copy here.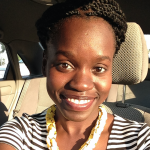 Leave a Comment