Somi Shines Her Eye … and Ours Too
By Nikki Igbo
Published: November 4, 2014
We all have our personal songbirds at home – a parent, grandparent, sibling or spouse – and others we've admired on the world stage: Salif Keita. Miriam Makeba. Fela Kuti. Youssou N'Dour. Angelique Kidjo. Sade Adu. To that list, we can now add Somi. Like the music of those greats who came before her, Somi's African jazz and soul music truly embraces her heritage, her roots, her people and her experience. During her concerts, we are captivated by her spirit and energy. She doesn't just feel the words and melodies – she becomes them. Her songs are not so much performances as they are confession, confirmation and exaltation.
If you have not yet heard Somi's voice, you will soon. Since releasing her first album Eternal Motive in 2003, she's been a tireless force for global, modern African music and art exposure. Honored as a TED Global Fellow and an Association of Performing Arts Presenters Fellow, she's gone on to release four more albums, including Red Soil in My Eyes and If the Rains Come First. She produced her most recent album, The Lagos Music Salon, following an 18-month stay in Lagos.
Pursuing Her Passion
Born Laura Audrey Kabasomi Akiiki Kakoma to Ugandan and Rwandan medical professionals, Somi originally pursued a degree in medical anthropology. During a phone call between concerts in Atlanta and New York, Somi explained, "My mom was an oncology nurse, and my father was an immunologist and doctor of veterinary medicine. I grew up in a home with parents who spoke about medicine and health in such a casual and matter-of-fact way, so there was an awareness of health and our bodies as living organisms. But my parents didn't steer me toward medicine. They recognized and encouraged my interest in the arts and my love of music at a very young age."
"My first [Lagos] salon took place in the art gallery of the African Artists' Foundation in Ikoyi. Other salons were at The Wheatbaker Hotel and Eko Hotel's Sky Bar. During the Lagos Jazz Series, I performed at Federal Palace, the Boat Club, and Muri Okunola Park," Somi explained.
That recognition led Somi's parents to suggest dual degrees in medical anthropology and music to their gifted child. "They saw how much joy music gave me. That's when I realized that parents actually know their children before children know themselves. My parents were not afraid of who I was. They never said no when I recognized that music was the path I wanted."
Somi's musical path has since led her to share the stage with Baaba Maal, Paul Simon, Jennifer Hudson, Mos Def and Danilo Perez. She's performed in New York City, Paris, London, Berlin and at the United Nations General Assembly. Her time as artist-in-residence at the School of Visual & Performing Arts at Kwara State University led to The Lagos Music Salon concert series, her eponymous album and several live performances around the great city.
Falling in Love with Lagos
Somi described her stay in Lagos as a "creative process" based upon her desire to "get a closer look inside the nuances of the home that is the African continent." The city made a deep impression on Somi. "Lagos is so layered, complicated and nuanced. It is unapologetically honest and taught me so many lessons. Lagos demands that you show up because it is a difficult, tough city to negotiate, live in and love. It demands that you be honest about your life while you are there. Whether you're talking about the heat, the traffic, the energy, the tragic or the magic side of the city, it's so honest. It really gave me the courage to be honest with myself in my music and my time there."
When asked about the reception to her Lagos performances and The Lagos Music Salon, she exclaimed with an obvious smile in her voice, "The response I've received from the Nigerian community has been so encouraging and heartwarming. I love the feedback and I appreciate knowing that Nigerians approve of the message and perspective."
Listen to The Lagos Music Salon and it will become clear why Nigerians have reacted so positively. While giving nods to Fela Kuti in Lady and Nelly Uchendu in Love Nwantinti, the album articulates Somi's heartfelt impressions of the booming African metropolis. Joining Somi on the album are Common, In His Image, Ambrose Akinmusire and Angelique Kidjo. Somi said of Angelique, "I look up to her like a big sister and I appreciate her a great deal. The experience was wonderful because she is a wonderful spirit. She's created a legacy of strength and empowerment for African woman. She has this energy, like fire."
How Somi Gives Back
Somi has always been interested in supporting authenticity and originality in music, and in 2008 she launched her own nonprofit organization to do just that. New Africa Live's mission is simple: to develop a space in which emerging artists can help the world reimagine and celebrate modern African music, art and expression. "I felt frustrated as an artist working in jazz and soul when people would say of my music that it's 'too African' and it's 'not really jazz,' or it's 'too this' and 'not really that.' In Africa, there's no need to explain that side of my identity. I can express everything in my heart," said Somi.
Through New Africa Live, Somi spearheaded and produced a concert series which has featured several African artists including Vieux Farka Toure, Asa, Keziah Jones, K'naan, Alsarah and Bibi Tanga. And Somi doesn't plan to stop there: "I ask that everyone support young African artists and be open to them. I would love for people to stay tuned for New Africa Live and my plans to take it from an annual music series in New York to a larger exposition of these creative talents."
While Somi has a deep and profound appreciation for those female African artists who came before her (most notably Miriam Makeba), she wouldn't say that her latest album puts her in the same activist light as her musical heroes."With The Lagos Music Salon, I have taken on a number of social and political issues in a direct way. I just tried to be honest about what I'd seen and the things that we have the power to change. That's the beauty of music; you can sing to someone very sweetly and try to talk to them too. I have been called an activist, but I think my activism resides in more of a cultural space."
Somi has just finished a promotional tour in the United States and is looking forward to touring Africa in the same way. She has a show coming up on December 6th in South Africa and then hopes to return to Nigeria. She said, "I'd love to go back to Lagos and celebrate the city that inspired my heart so very much. I'd love for more folks to check out The Lagos Music Salon and see if they can find home in the way that I was able to find home in Lagos." And we'd love to see her there, because we can't resist that wonderful sensation of being serenaded by someone who loves us.
RELATED: In Her Own Words: Somi on Diet, Fitness, Fashion and Hair
To learn more about Somi visit: www.somimusic.com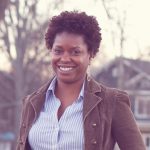 Leave a Comment