Akara Inspired Pan Fried Chickpeas Fritters
By Ronke Edoho
Published: August 18, 2015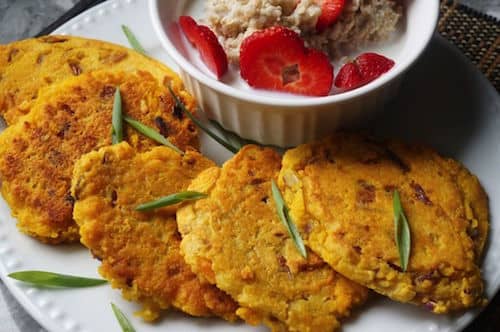 Growing up in Nigeria, beans based dishes were a huge part of our diet. We had beans in one form or another every other day at my home. We even had more beans based dishes while I was in boarding school; it was a daily part of our diet. Popular Nigerian beans dishes include stewed beans, akara (fried bean fritters), moimoi (savory steamed beans pudding), yam & beans pottage, Adalu (beans & fresh corn), gbegiri (beans stew) etc.
Beans is an inexpensive way to incorporate good protein into our diets.
When I first moved to Canada, I didn't have access to the variety of beans I was used to in Nigeria (Honey beans & black eyed beans). This combined with the fact that animal protein was widely available and inexpensive, I removed beans from my diet. It wasn't until I gained a substantial amount of weight and needed to lose it that I reanalyzed my diet and reintroduced plant based protein sources as the major component of my diet. This was when I fell back in love with legumes and started experimenting with numerous varieties available in North America.
For most Nigerians, the task of beans peeling for favorites like akara and moimoi can often be a daunting one. This inspired me to try create these recipes with unpeeled beans, which I documented here. Leaving beans unpeeled is especially healthy as it leaves a lot more fiber in the meal.
RELATED: To Peel or Not to peel Beans for Moin-Moin
Continuing the search for alternatives, I now use chickpeas in much the same manner as regular beans in my kitchen. The upside is that chickpea is widely more accessible in international grocery chains and other ethnic food stores (especially Indian). Compared to regular black-eyed peas (unpeeled), chickpeas has more fiber as well as protein.
Akara Inspired – Pan fried chickpeas fritters
Akara is traditional West African beans fritter that is usually deep-fried in palm oil. It is typically served as a breakfast staple with a side of corn flour pudding (ogi).
This recipe takes inspiration from the concept of akara; however, it's pan-fried using a combination of palm and coconut oil. The resulting fritters are crispy on the outside, soft on the inside without all the oil.
These work great as breakfast fritters. You may also chop them up and use them as a source of protein in your salad!
Akara Inspired – Pan fried Chickpeas Fritters
Ingredients
1.5 cups split chickpeas
½ medium onion – finely chopped
1 scotch bonnet pepper (ata-rodo) – finely chopped
2 tablespoons coconut oil
2 tablespoons palm oil
Salt – to taste
1 large egg
1 Maggi (bouillon) cube - optional
Instructions
Start by soaking the peas in generous amount of water . You can choose to soak the beans overnight in cold water or soak in hot water for 15 minutes (covered).
Combine the soaked peas in a blender with 1/2 cup of water. Blend to a very smooth paste.
Pour blended peas into a large bowl; add in all left over ingredients (except oil). Combine thoroughly using a whisk or spatula.
Place a large non-stick pan on medium-high heat. Add in the oil to coat bottom of the pan. If using a smaller pan, divide oil as required.
Scoop about 1/3 cup of mix into the oil leaving about 1.5 inch space between each scoop.
Continue to cook until crisp on the bottom (~2 minutes). Flip the fritters and press down to flatten. Cook until crisp on the other side.
Reduce heat to low and continue to cook for 4 more minutes flipping ones at the halfway mark.
https://www.radianthealthmag.com/healthy-eating/akara-inspired-pan-fried-chickpeas-fritters/
Serve with oatmeal, cornmeal or bread.
Enjoy!!
Like what you're reading? Sign up for our free newsletter and never miss a post! Plus get a FREE digital version of our Issue No.10 with sign up.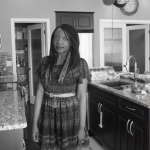 Leave a Comment