Bitter Leaf Soup (Efo-Elewuro)
By Ronke Edoho
Healthy Eating
Efo is the Yoruba word for vegetable and is used as a prefix in vegetable-based soups. This recipe is an adaptation of one of my grandmother's favorite dishes to cook for us. The combination of tender greens like efo-tete (green amaranth) and young ewuro (bitter leaf) with locust beans, flaky mackerel fish and palm oil is sure to please any palate.
The bitter leaf used in this recipe should be washed to remove some of the natural bitterness. Most local markets sell bitter leaf that has already been stripped of a certain degree of bitterness; however, if you are one of the many Nigerians who grow bitter leaf but aren't necessarily sure how to wash it, here are two options:
1) Hand wash
Place bitter leaf in a basin of water. Gather up a little at a time and rub together under the water. Continue to do this until the leaves are fairly wilted. Use a mesh strainer to remove excess water. Repeat this process 2-3 times. Rinse the bitter leaf with fresh water, strain and set aside for use.
2) Blender or food processor
Begin by chopping the bitter leaf. Combine 1 part bitter leaf with 2 parts water. Blend for 2-3 minutes, then strain to remove water. Repeat this process 2 more times. Rinse the bitter leaf with fresh water, strain and set aside for use.
Bitter leaf soup can be enjoyed as an accompaniment to pounded yam, amala, plantain, fufu, and so forth. It can also be served on rice or eaten with a side of boiled plantain.
[READ]: How Bitter Leaf Can Improve Your Health
Preparation
Combine the ingredients in Part A in a blender and pulse to a coarse texture. Pour the mixture through a fine mesh strainer and allow to rest for 10 minutes to drain excess water.
Bitter Leaf Soup (Efo-Elewuro)
Ingredients
PART A

3 red bell peppers (tatashe)
1 medium onion bulb
2-3 Scotch bonnet (ata rodo)

PART B

2/3 cup palm oil
1/2 medium onion bulb, thinly sliced
2 tablespoons blended crayfish
1 cup shredded smoked fish (optional)
1-2 large mackerel fish (titus), cleaned and cut into steaks
3 tablespoons locust beans (iru)
2-3 cubes maggi (optional)
salt to taste

PART C

3 packed cups washed fresh bitter leaf or 2 cups dried bitter leaf
6 cups chopped amaranth or spinach
(Note: 7-8 cups of fresh bitter leaf will yield approximately 3 cups washed.)
Instructions
Season the mackerel with salt and pepper and set aside.
Heat the palm oil in a large pot over medium heat.
Add the sliced onions and fry until fragrant and browned.
Add the mackerel and fry on both sides.
Add the mixture from Part A and the remaining ingredients from Part B.
Cover and simmer on medium-high heat for 15-20 minutes.
Remove the mackerel and set aside.
Add the bitter leaf and amaranth; stir well to combine with the sauce. Continue to stir until the vegetables are wilted and reduced. Taste and adjust seasoning if desired.
Return the mackerel to the soup. Simmer uncovered for another 2-3 minutes.
https://www.radianthealthmag.com/healthy-eating/bitter-leaf-soup-efo-elewuro/
Serve and enjoy!
Never miss our delicious healthy recipes! Join our free weekly newsletter and get a bonus 10-day guide to a lean body, clear skin and radiant glow! Download your copy here.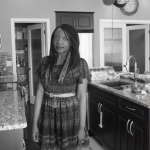 Leave a Comment