Bitter Leaf and Avocado Spread
By Ronke Edoho
Healthy Eating
This is yet another delicious and healthy way to sneak more bitter leaf into your diet. Bitter leaf works wonderfully with creamy avocado on whole-wheat toast. To add another layer of texture, we topped the toast off with a little crushed peanut; this addition is completely optional.
[READ]: How Bitter Leaf Can Improve Your Health
It is important that you first wilt the bitter leaf in order to create a better-textured spread. If using dried bitter leaf (as it is sold in most African food stores outside Nigeria), the leaves should be boiled until softened.
Bitter Leaf and Avocado Spread
Ingredients
1 cup fresh bitter leaf, or 1/3 cup dried bitter leaf
1 medium avocado
a pinch of salt
1 tablespoon roasted groundnut (optional)
Instructions
Place fresh bitter leaf in a pot, cover and cook on low heat until wilted, 3-4 minutes. (If using dried bitter leaf, add 1/3 cup water and cook for 6-7 minutes.)
Gently mash the bitter leaf using a mortar, or purée in a blender with no added water until smooth.
Peel and mash avocado with a fork.
Combine avocado, salt and bitter leaf to create a smooth paste.
https://www.radianthealthmag.com/healthy-eating/bitter-leaf-and-avocado-spread/
Serve over toast and sprinkle with peanuts.
Never miss our delicious healthy recipes! Join our free weekly newsletter and get a bonus 10-day guide to a lean body, clear skin and radiant glow! Download your copy here.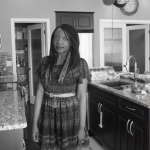 Leave a Comment