Moimoi Inspired – Savory Baked Chickpeas Pudding
By Ronke Edoho
Published: August 25, 2015
Healthy Eating
Moimoi is a traditional Nigerian savory breakfast pudding traditionally made from beans. It is usually steamed in banana or ewe-eran (Thaumatococcus daniellii) leaves and served as an accompaniment to fermented cornmeal during breakfast or cold corn pudding for lunch or supper.
Here we recreate this traditional breakfast pudding using chickpeas in lieu of beans. The end result is just as delicious!
Moimoi Inspired – Savory Baked Chickpeas Pudding
Ingredients
1 large red bell pepper
½ medium onion
1 scotch bonnet pepper
2 cups chickpeas
3 large eggs (2 boiled, 1 raw)
Handful chopped parsley (optional)
3 tablespoons palm oil (melted)
2 cubes maggi
Salt – to taste
2 tablespoons ground crayfish (optional)
Instructions
Start by soaking the peas in generous amount of water. You can choose to soak the beans overnight in cold water or soak in hot water for 15 minutes (covered).
Preheat your oven to 350F.
Grease a wide baking pan. Set aside.
Finely chop the boiled eggs. Set side.
I also made use of some chopped red pepper for some color. This is not required.
Combine soaked peas in a blender with bell pepper, onion, scotch bonnet pepper and 1 cup of water. Blend to a very smooth paste.
Pour blended peas into a large bowl; add oil, salt, maggi, crayfish and crack in raw egg. Using an electric whisk or rolling pin, mix the ingredients together for 5 - 6 minutes incorporating as much air as possible.
Pour whisked mixture into greased baking pan. Top with chopped eggs and parsley (if using).
Bake for 35-45 minutes or until set in the middle (do a quick check by inserting a table knife, there shouldn't be anything dripping from the knife).
https://www.radianthealthmag.com/healthy-eating/moimoi-inspired-savory-baked-chickpeas-pudding/
Serve baked chickpeas by itself or with your choice of side.
Never miss our delicious healthy recipes! Join our free weekly newsletter and get a bonus 10-day guide to a lean body, clear skin and radiant glow! Download your copy here.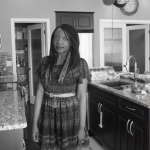 Leave a Comment