Oven Baked Brown Rice Jollof and Chicken
By Minjiba Cookey
Published: February 5, 2019
Jollof rice is a staple cuisine along the coast of West Africa. Originally from the region, its many variations have two things in common; that it is rice cooked in a rich, spicy tomato sauce, and that it is very well loved.
In the countries that eat jollof rice, it is regarded as a celebratory food. Many West African homes likely enjoyed plenty of J-rice (as it is sometimes affectionately called) over the festive season that has just gone. The typical choices of rice used for "jollofing" are white long grain or white basmati.
In my recipe, I've swapped out traditional white rice for a brown, short grained, fluffy variety. Brown rice is less processed than white, and therefore higher in fiber, vitamins and minerals. It's generally considered to be the healthiest form of rice and also lends a subtle nutty flavor once cooked.
I also used good quality extra virgin olive oil (instead of inflammation causing hydrogenated vegetable oils), and pure sea salt instead of stock cubes. It is my firm belief that rich, satisfying comfort food can be made with wellness in mind.
RELATED: Oven Baked, Whole-Wheat Chin-Chin
Although jollof rice is a firm favorite, it can be tricky to make. What's the ratio of rice to water? How much tomato sauce? Many home cooks struggle with getting it just right, and achieving consistent results each time.
This recipe is designed to be fuss-free and bang-on accurate, to save time and guarantee greatness. There is absolutely no stove-top cooking involved — it is a simple blend mix and bake.
What I love about this dish is that it takes exactly the same length of time for the chicken and the jollof to bake, and so once I get them into the oven, I have my hands free for putting on a face mask, playing with my daughter, typing up an article, or putting my feet up for a glass of wine.
This recipe will comfortably feed six adults in one sitting, so it is a great one to make for weekend entertaining. It's also a nice idea to make ahead for weeknight suppers, and the leftovers can be taken to work as a packed lunch or as meal prep for the next few days.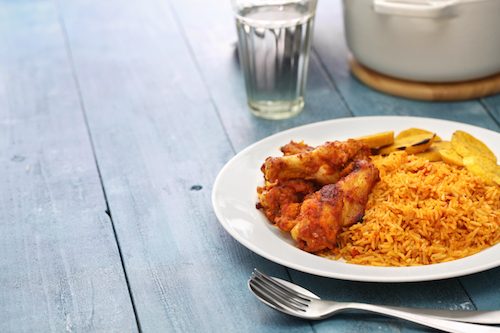 Oven Baked Brown Rice Jollof and Chicken
Ingredients
1 whole chicken, halved
Your favorite spice mix
3 cups brown rice, washed
1 large onion
1 400g tin of plum tomatoes
3 red bell or paprika peppers
1/2 cup or 125ml extra virgin olive oil
1 70g tin of tomato puree (about 2 tbsp)
3 cloves garlic
1 tsp fresh grated ginger
2 tbsp rock sea salt
1 tsp dried oregano or thyme
1/2 tsp curry powder
2 cups or 500ml water
Instructions
First, season the chicken with your favorite spice mix and place it in a foil-lined roasting tray. Set aside.
For the rice, take all the ingredients except the rice and puree them in a blender or food processor. Set aside.
Place the washed rice into an oven-proof baking dish, and then pour the blended ingredients over the rice. 
With a spoon or spatula, mix the rice and the sauce until it's evenly incorporated and then it out flat on top so it cooks evenly. Cover with foil.
Place the jollof rice and the chicken side by side in the oven and bake at gas mark 7/ 220*C/425*F for one hour. 
When the rice is cooked, use a fork or cooking spoon to fluff and loosen it all up. You can serve the roast chicken in a separate dish if you prefer, but I like to serve mine together for a bit of height and drama.
https://www.radianthealthmag.com/healthy-eating/oven-baked-brown-rice-jollof-and-chicken/
A few notes:
Do not be tempted to add additional water to the rice beyond what the recipe calls for — the steam trapped under the foil will see the cooking through and that is how you get nice fluffy single grains
Also make sure the juices on the chicken are running clear and that it is cooked through before serving.
Like what you're reading? Sign up for our free newsletter and never miss a post! Plus get a FREE digital version of our Issue No.10 with sign up.

.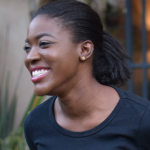 Leave a Comment