First Editor's Note: Introducing Radiant Health's Inaugural Cover Issue
By Nnenna Kalu Makanjuola
Last year, around February, I was on an early morning long run to prepare for my third half-marathon (21 Km) race. I was in a rather reflective mood as many runners often find themselves in when pounding the pavement at 5:30am. Usually my thoughts drift between the insanity of being on the road that early, my never ending to-do lists and wondering when my playlist is going to shuffle to a favorite song, until finally I settle in to some deeper thoughts about my hopes and dreams.
And so it was that I found myself thinking about solutions to our health-care challenges in Nigeria when suddenly the idea of starting a Nigerian health magazine boldly presented itself. I could have laughed had the "message" not been so clear. The more I thought about it, the easier my strides became as ideas began to take form in my head. For a moment, I caught a glimpse of the role, however small it might be, that such a magazine could play in improving the heath of Nigerians.
Three months ago, on April 3rd, 2014, Radiant Health Magazine website went live and has been wonderfully received by you, our readers. I hear from you daily via email or through our various social media platforms and I appreciate all the outpouring of love and support I've received from you.
Today, I am pleased to announce yet another milestone for Radiant Health with the introduction of our very first cover issue! I have received several inquiries from you about where to buy the magazine so please allow me to clarify – it is after all my first official Editor's Note to you.
Radiant Health is a bi-monthly digital magazine which means that all our content will be available online. There are plans, however, for full-digital issues, that will be downloadable to your digital device of choice, as well as limited print editions beginning the second quarter of next year.
The theme for this inaugural issue is Reinvent Your Health. What does good health mean to you? My own fitness routine slowly came to a halt as I became consumed with launching Radiant Health. Before I knew it, I had withdrawn socially, and did not take time to participate in activities I enjoyed.  Every waking moment was filled with thoughts about work and having 24 hours a day seemed hardly enough. The more I did, the more there was left to do. Even when I was with friends and family, I was not fully present.
For many of us, maintaining a healthy lifestyle is often a bumpy ride filled with the ups and downs of life's varying seasons: earning a job promotion, moving to a new city, getting married, having kids, caring for a sick parent, starting a company – you name it. And when we fall off of the bandwagon, we often don't know how to get back on. This issue will show you how. No matter your age, it is never too early or too late to reinvent your health and find harmony within your body, mind and spirit.
The Reinvent Your Health series and other cover stories begin this week with an introduction to a balanced view of health and starting anew. This issue also brings you a special feature on endometriosis, a debilitating gynecological disorder that afflict millions of Nigerian and African women. We explore endometriosis through the stories of three beautiful and courageous women: Tanzanian-born Super model, Millen Magase; Nike Oshinowo and Chinasa Chukwu.
And you won't want to miss the inspiring story of another champion, Yemisi Ilo, as she candidly shares her battle with multiple sclerosis in Nigeria. Her story will challenge your attitude and view of people with chronic illnesses but also leave you with a persevering feeling of hope.
These feature stories will be released weekly beginning this week and continuing through the end of August. Joining our free weekly newsletter is a good way to stay connected and informed when these cover features and related health articles are released. Please take some time to review the inaugural cover below. I hope you like it.
I'll be remiss not to acknowledge the wonderful team that make the work at Radiant Health possible – an amazing group of talented and committed writers, editors, graphic designers, health and medical experts who bring so much to their work and who share a passion for helping you achieve your best health ever.
Finally, I'd love to hear from you! How is Radiant Health doing and how we can improve? What topics would you like to read in future issues? There are many ways to share your thoughts and ideas. You can email me at nnenna(at) radianthealthmag (dot) com, leave a comment below or get in touch via our social media platforms on Facebook, Twitter, Instagram and Pinterest.
Last week, I took my first step to reclaiming my health by running a 10K race with some dear friends.  However, you don't need a monumental physical feat to begin your journey to optimum health. Remember, it is the small steps we take each day that add up to big improvements in our well-being. Why not take your first step today?
To Your Great Health,

P.S. You can download our 10-day guide to a lean body, clear skin and radiant glow when you sign-up for our free newsletter. Get your copy here.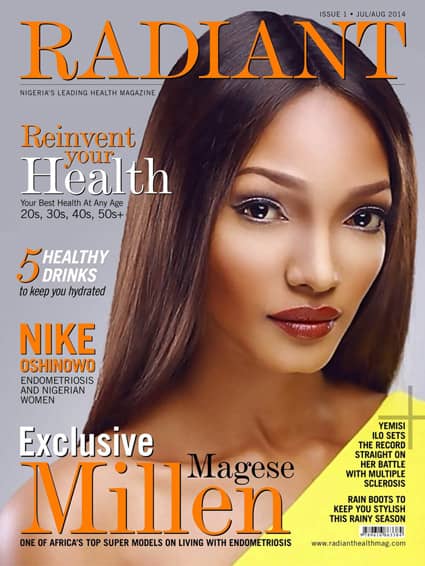 In This Issue
Tanzania-born Super Model Millen Magase on Living with Endometriosis
Reinvent Your Health: Your Best Health At Any Age – 20s, 30s, 40s, 50+
Yemisi Ilo Sets the Record Straight on Her Battle with Multiple Sclerosis
Nike Oshinowo: Endometriosis and Nigerian Women
5 Healthy Drinks to Keep You Hydrated
Rain Boots to Keep You Stylish This Rainy Season
COVER CREDITS
ON THE COVER: Millen Magase
PHOTOGRAPHER: TCD Concept
MAKEUP ARTIST: Joyce Jacob Beauty
STYLIST: Bolaji Animashuan Z
PUBLIC RELATIONS (PR): Bukky Karibi-Whyte, The Bobby Taylor Company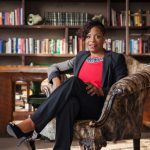 Leave a Comment