Behind the Scenes with Radiant Issue No 12 Cover Girl Ros Gold-Onwude
By Radiant Health
Published: November 15, 2018
Can someone be both at the top of her game and a rising star at the same time? When it comes to this issue's cover girl, we all say yes! With humble roots and the perseverance to keep going, Ros Gold-Onwude will charm you with her truly radiant personality. Watch the exclusive behind-the-scenes video of our cover shoot — we guarantee you'll catch yourself smiling right along with her!
Radiant Issue 12, The Womanhood Issue, is available online or in stores across the globe (see store list here).
Like what you're reading? Sign up for our free newsletter and never miss a post! Plus get a FREE digital version of our Issue No.10 with sign up.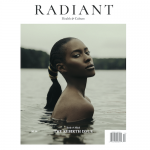 Leave a Comment