This Seafood Okra Soup And Oatmeal Fufu Is Good For Your Waistline
By Abby Soetan
Published: November 3, 2014
One of the toughest dilemmas we face is the ability to maintain a healthy lifestyle and still enjoy the pleasures of traditional meals we are accustomed to. Using oats as a substitute for garri (cassava flour), you can now enjoy the taste of home without the guilt that so often accompanies it.
Whole grain oats are rich in fiber, which helps to lower cholesterol levels, blood pressure, and blood sugar. Okra is a very low calorie vegetable containing high amounts of vitamin A, which is beneficial for maintaining healthy skin.
Serves 2 | Preparation Time: 15 minutes | Cook Time: 25 minutes
Oatmeal Flour And Seafood Okra
Ingredients
20 okra pods
4 cups boiling water (divided)
1/4 teaspoon salt
2 teaspoons palm oil
1 teaspoon crayfish
1 teaspoon powdered pepper
Choice of seafood (E.g. Fish, Shrimps, Clams, Mussels, Crabs)
1 cup whole grain oats
2 medium pots
Blender/Spice grinder
Wooden spoon (omorogun)
Instructions
In a medium pot, bring 1.5 cups water to a boil and add the sliced/grated okra.
Season with salt, crayfish and pepper, then leave to simmer on low heat for 5-7 minutes till okra is almost tender.
Add cooked proteins (fish, shrimp, mussels, crabs and clams) and palm oil. Keep on low heat for additional 5 minutes then set pot aside.
Blend the oats in a blender/spice grinder on high speed until it turns to powder.
Pour 1 cup freshly boiled water in a pot and add oatmeal powder little by little until water is almost fully absorbed.
Use a wooden spoon to stir until it becomes even in consistency. Add 1/2 more water to soften and stir again.
(Optional: If you prefer softer "swallows", add an additional 1/2 cup water and stir once more).
Serve seafood okra in a bowl alongside the pounded oats.
https://www.radianthealthmag.com/healthy-eating/oatmeal-fufu-seafood-okra-soup/
Like what you're reading? Sign up for our free newsletter and never miss a post! Plus get a FREE digital version of our Issue No.10 with sign up.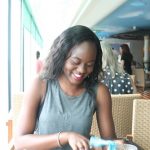 Leave a Comment